What is Case Study?
In this competition, teams of four students gather to provide a solution to a technical or management problem provided by our two case study partners. Mostly this is a genuine realistic problem which needs to be tackled by consultants or corporate clients.
The various teams will be given a limited amount of time to solve and pitch their approach to our EBEC jury. The jury will consist of experts in the subject field, from both academia and industry. The teams will be judged on creativity, teamwork and approach to the issue.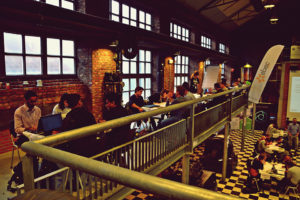 ---
Edition 2019-2020
Join the local round in Leuven on the 31st of October 2019from 8h00 until 23h00 at the Thermotechnical Institute and conquer Europe with your engineering skills! Register here for the Case Study of EBEC 2019-2020!
We are proud to present our cooperation with VTK and LBK . Together we have reviewed several cases of different companies to finally choose two interesting topics, presented by Cyclops.
Cyclops is a growing and dynamic company specialized in services of project management for industrial investment projects. To industrial clients, we are a flexible and independent partner that offers services from idea to start-up. As a company, we stand for a nonstop focus on result-driven project management within time and budget and at all time we aim for the best solution of our customer's projects. Among the services we provide are Strategic consultancy, Feasibility study, Project preparation and execution, SU & Operational management, Turnaround coordination and Project Auditing.
Cyclops can show more than 30 years of experience in industrial project management for companies such as Cargill, Cosucra, Kellogg, Ineos, GSK, PB Gelatins, Qualiphar, Mr Mallo, Fromunion, …"
Schedule:
| | |
| --- | --- |
| 08:00 – 08:45 | Breakfast |
| 08:45 – 09:00 | Welcome & Introduction |
| 09:00 – 13:00 | Case 1 |
| 13:00 – 15:00 | Lunch & Presentation 1 |
| 15:00 – 19:00 | Case 2 |
| 19:00 – 21:00 | Dinner & Presentation 2 |
| 21:00 – 21:15 | Closing ceremony |
| 21:15 – 23:00 | Reception |
Jury: