Hey! You!
Want to understand what's actually under the hood of the recent AI revolution? Feel like getting inspired by all of the fields and industries Artificial Intelligence is having an impact at the moment? Want to know how to prepare when singularity comes and the robots take over the world?

Well then, we have good news for you.

For all of those questions (except maybe the last one), you can come find out the answer in our BEST Course!
Between the 4th and 12th of July, you'll first be learning the basics of Artificial Intelligence through lectures and hands-on exercises from professors and PhD's. You will learn here what the difference is between AI, Machine Learning (ML) and Deep Learning (DL).
After that, you'll get an insight into how it's used in practice through company visits in among others UZ Leuven (Gasthuisberg) and Belfius.
Last but not least, we'll be giving you both technical, economical and ethical perspectives on this disruptive technology, with guest lectures from Dataroots, McKinsey, Siemens and others!
Check out the detailed schedule below.
The exam consists of some basic theory questions, followed by a project. Afterwards you get a certificate that you achieved the AI skills. ?
Schedule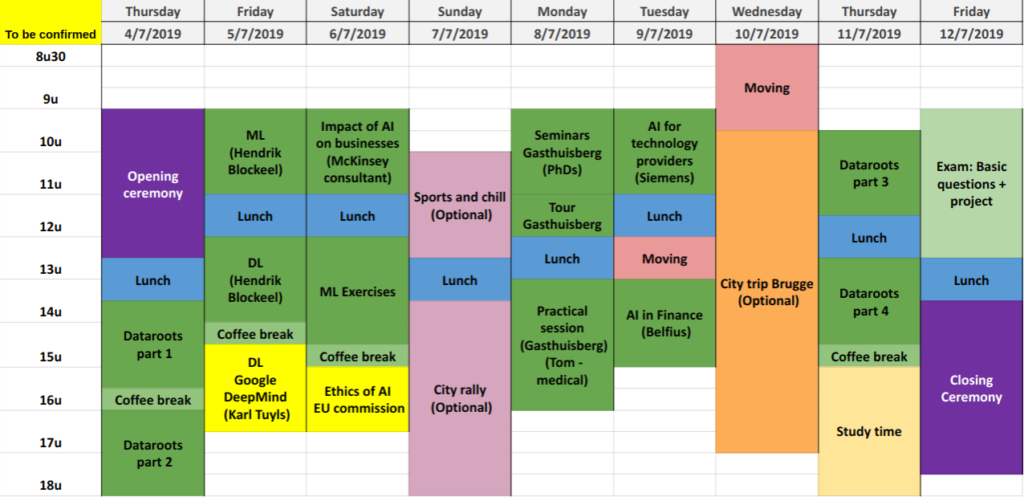 Seven days of lectures, company visits, the exam and opening and closing ceremonies. Afterwards you receive a nice certificate you can use for your CV!
When? 4-12 July 2019
Where? KU Leuven, campus Arenberg
Topic? Artificial Intelligence
What? Lectures from a professor at KU Leuven, guest speakers from Dataroots, McKinsey and Siemens and company visits at UZ Leuven (Gasthuisberg) and Belfius.
Fee
We ask a fee just to cover your expenses. The fee is €37 for the whole course, and includes:
☕ Coffee break ☕: drinks, fruits and snacks.
? Lunch ?
? Transportation to Belfius, Brussels ?
For €7 extra, you can also get the ? custom-designed course T-shirt ?
Not included
Accomodation and transportation in Leuven (we assume you have your own kot and your own bike)
Consumptions at the social activities (you can just pay what you consume there 🙂 )
Friends! Together with 8 other local participants, you'll get the chance to get to know 22 participants from all over Europe.
You're always welcome to join in at the social activities we organize every evening. One of the big advantages of doing a course with a bunch of internationals, it's that you'll have a sweet set of friends all over Europe to visit afterwards!

So what are you waiting for? Don't be shy, just apply!
How to apply?
Apply till Sunday 21st of April 23:00 by sending a motivation letter and answering the two questions.
You will hear if you're accepted on Sunday 28th of April.
Who are we?
BEST Leuven will take care of you with lots of love. We are a group of enthusiastic people studying in Leuven, and will make sure this course will be an unforgettable experience for all of you!
Contact
Questions, doubts, remarks? Send them all to summercourse.organisers@bestleuven.eu, and we will make sure to answer before you can say 'Beep-boop, shaken, not stirred'.
Responsibles: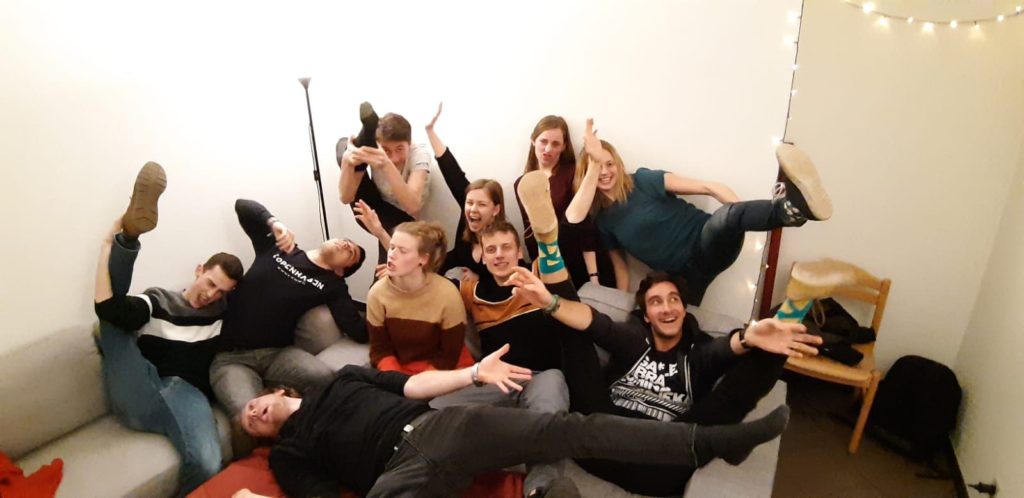 This course is made possible thanks to our partners